Blog
July 2016
---
Wednesday, 6th July 2016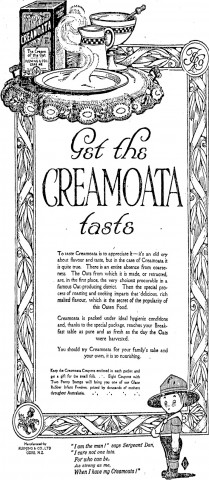 Its winter time and if you're looking to do something inside there are a few options not far from home.
For those interested in craft, head along to the Eastern Southland Gallery for the Eastern Southland Embroiderers' Guild exhibition that is complemented by work from textile artist, Val Griffith-Jones, which includes baking! There's a lot of inspiration packed in this show.
At the Croydon Aviation Heritage Centre you'll find the return of Sgt Dan, the Creamoata Man. Celebrating his 101st birthday you can learn all about his early days and how he became a beloved national and local icon. Curator of the exhibition, Stephanie Herring, will be giving a floor talk on Tuesday 12 July at 2pm. All welcome as Sgt Dan's story has appeal across the ages.
And if you haven't already, come for leisurely explore of the Museum. Learn about the 1913 flood, find the model for Gore's famous Brown Trout and discover what local stores would have had in their shop windows.
Happy holidays.
By: Stephanie Herring @ 14:56:26